The Basics
Name: Alexandra McNamara
Company: Blush & Bowties
Years in Business: 8
Let's get down to Biz
How'd you get into the biz?
I actually have a background in theatre and acting but after graduating and realizing a career in acting just wasn't meant to be, I found myself in a series of unfulfilling jobs. I was just the age when my friends were getting engaged, and honestly, there was just this little spark of curiosity about wedding planning and design so I decided to explore. I helped plan a few friends' weddings along with my own wedding, and I just fell in love with it!
When I shifted into wedding design and planning, I quickly realized my training in theatre and as an actor applied directly to running a wedding planning company. When I launched my business, weddings were just shifting away from the over-the-top, tacky, tulle and gemstones everywhere phase into something more natural and stylish. I wanted to be an advocate for the movement toward a more modern aesthetic as well as offering a planning service to my clients that wished to celebrate weddings in a different way.
What was the hardest part of starting your own business? What do you find most rewarding?
Oh that is a tough question. I would say the hardest part was having to figure out so many new things daily. Honestly, that is still the case; there is no handbook for what I do! From creating a website, to SEO, to taxes, to creating workflows, to marketing – there was, and still is, so much to learn. Being a business owner requires a lot of just having to figure things out.
I think the most rewarding part of my job are the wedding days and seeing all the hard work come to fruition. We also work with the most wonderful couples, and seeing their faces light up on their wedding day, how they are totally present and immersed in the moment is why I do what I do! It's cheesy but it's truly an honour to be part of such a joyful and momentous time in someone's life.
When did you get your first big break?
Honestly I can't say I had a big break. I think our modest success in the wedding industry comes from small steps forward. I will say however, the time I received my very first inquiry – that wasn't a friend or someone I knew – it made me feel like I'd just won the lottery.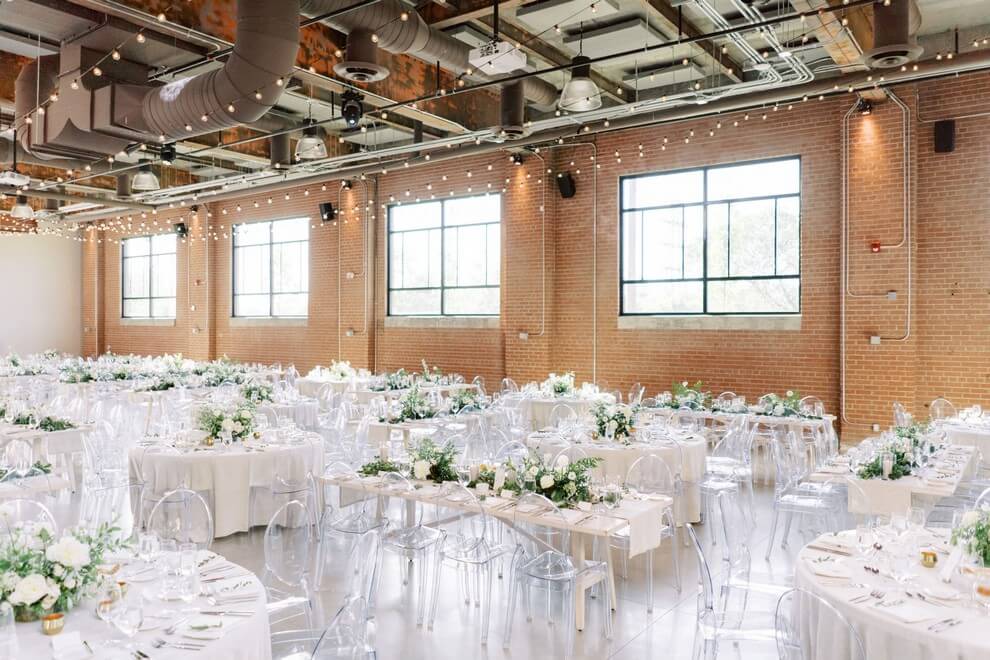 Photo Courtesy of Artiese Studios
What's one of the secrets to your success?
Honestly, determination. Just never giving up. I think many new business owners throw in the towel when things get tough or they don't fully commit to their business. Do you know that crazy video of Shia LaBeouf yelling "Just do it"? I know it's strange, but that video hits home for me. I think I have the ability to just make things happen, when I set my mind to something, I pretty much become obsessed!
What's the best part about your job?
I love how creative my job is. When a couple trusts me to guide them through the design process – it's the best feeling in the world. I love coming up with ideas and then seeing them come alive on a wedding day.
Fun & Quirky
When you were a kid, what did you want to be when you grew up (and how does it relate to what you do now)? I wanted to be an actor. I was a really outgoing kid, always in community theatre. I had a big imagination which I feel correlates directly to why I love weddings and design. Growing up, I loved when my parents would host dinner parties as it allowed me to set the dining room table – one of my very favourite activities, which, I know I know, it's a little strange for a kid to adore this chore, but I just loved choosing the plates, cutlery and napkins! I would add a special touch with a bouquet of fresh lilacs from our garden and handwritten place cards for each guest. Bit of a nerd alert I know, but looking back at what I loved as a child was a big hint that I was meant to be a wedding planner. It actually makes a whole lot of sense that I ended up in this career Courtyard by Marriott Downtown Toronto.
You wouldn't be you without…  my husband. I've known my husband for almost 15 years now and he is such a big part of who I am today. We run Blush & Bowties together and he is so supportive of me and the business. I love him to bits!
What's at the top of your bucket list? Planning a wedding in France!
Favourite celebrity and why? I really love Olivia Coleman. I watch her Oscar speech when I need a laugh.
Coke or Pepsi? Coke! I adore an ice cold diet coke.
Friends of Seinfeld? Haha Friends hands down!
If you could retire anywhere in the world, where would it be? After spending time on the French Riviera, I would say that is at the top of my list now! Anywhere with an ocean view sounds good to me.
What's the first thing you do when you open your eyes in the morning? Cuddle with my dog Watson. It's the best way to wake up!
What was the last fun thing you bought? I just bought a whole bunch of recording equipment to film with. I am launching a new business in the summer to train and mentor wedding planners called, The Modern Wedding Planners Collective! I've been working on it for over a year Toben Food by Design and am super excited about this new venture!
Favourite vacation spot? I just spent a month in France and it was magical! The French Riviera has some of the most amazing vistas I've even seen!